DECEMBER 2022: CLOSING THE YEAR WITH ADVANCES IN EHOLDERS, CYBERSECURITY AND A POSITIVE BALANCE IN FIGURES
Written by EVoting Communications

/
December 29th, 2022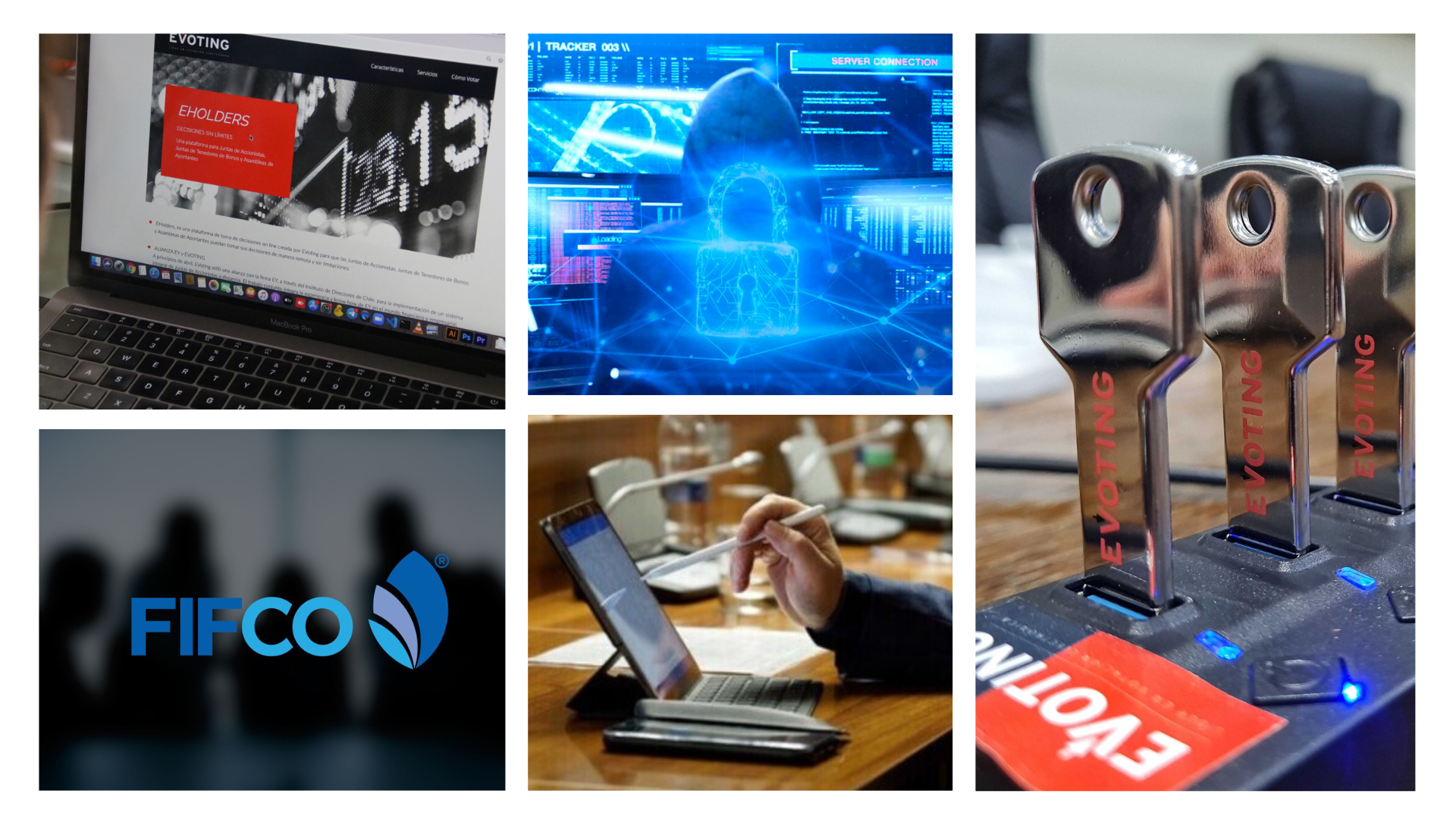 News for the new season of Shareholders' Meetings, a conversation on cybersecurity and the figures for 2022, star in December in EVoting.
The last month of the year brought with it a series of improvements in EHolders for the new Shareholders' Meeting season, and showed a positive balance in EVoting's 2022 figures. In addition, a conversation was held on ethical hacking and cybersecurity.
"IT IS A TRANSPARENT, DEMOCRATIC AND SAFE PROCESS, WHICH IS THE MOST IMPORTANT THING FOR SHAREHOLDERS".
FIFCO, a Costa Rican company with more than 100 years of history dedicated to producing and distributing food and beverages, has held three Shareholders' Meetings with the EHolders platform since 2021.
Isaac Salazar, Legal Manager of the brand, highlighted the great performance of the company and mentioned that the electronic processes provide "greater transparency" and highlighted EVoting's accompaniment and adaptability in all the processes carried out together. See more here.
EVOTING CONVERSATION: WHAT IS ETHICAL HACKING AND WHY IS IT IMPORTANT?
In order to continue promoting cybersecurity, EVoting held an online chat dedicated to ethical hacking and its importance. The event was attended by the General Manager, Tomás Barros, and the President of the company, José Miguel Piquer.
In addition, Francisco Canteli, Team Leader of Hackmetrix, a company dedicated to ethical hacking and which audited EVoting in this area, was a guest. "By performing these breach tests, it allows us to see if the systems are secure," Canteli explained during the conversation.
NEW FEATURES IN THE EHOLDERS PLATFORM FOR THE NEW SHAREHOLDERS' MEETING SEASON
With three years of experience in conducting secure Shareholders' Meetings, EVoting is preparing for a new season with important improvements in the service. Integrated zoom, improvements in monitoring, new tracking functions, reinforcement of the internal team for better monitoring and audiovisual assistance, are some of the new features for the 2023 Shareholders' Meetings.
"The new improvements for the Shareholders' Meetings seek more comfortable, secure and efficient processes for our clients," explained Nicole Molina, Assistant Manager of EVoting's Meetings and Assemblies. See more here.
EVOTING CLOSES A GREAT 2022
516 votes, 161 meetings and assemblies, close to 280,000 votes received and more than 160 new clients, marked the year's figures for EVoting. This leaves an incredible sum of 677 processes carried out during 2022, being the third consecutive year exceeding 600. In addition, with the arrival of new customers, the company surpassed a thousand in its portfolio.
The great figures of 2022 are in addition to obtaining the Tech4Democracy, an award that recognizes startups that strengthen democracy in the region and is an initiative promoted by the U.S. Department of State and IE University. "It is the most important award in the democracy industry," said Mario Novoa, CEO of EVoting. See more here.