AUGUST 2022: EVOTING'S DEPLOYMENT IN MEXICO, CENTRAL AMERICA AND ECUADOR
Written by EVoting Communications

/
August 31st, 2022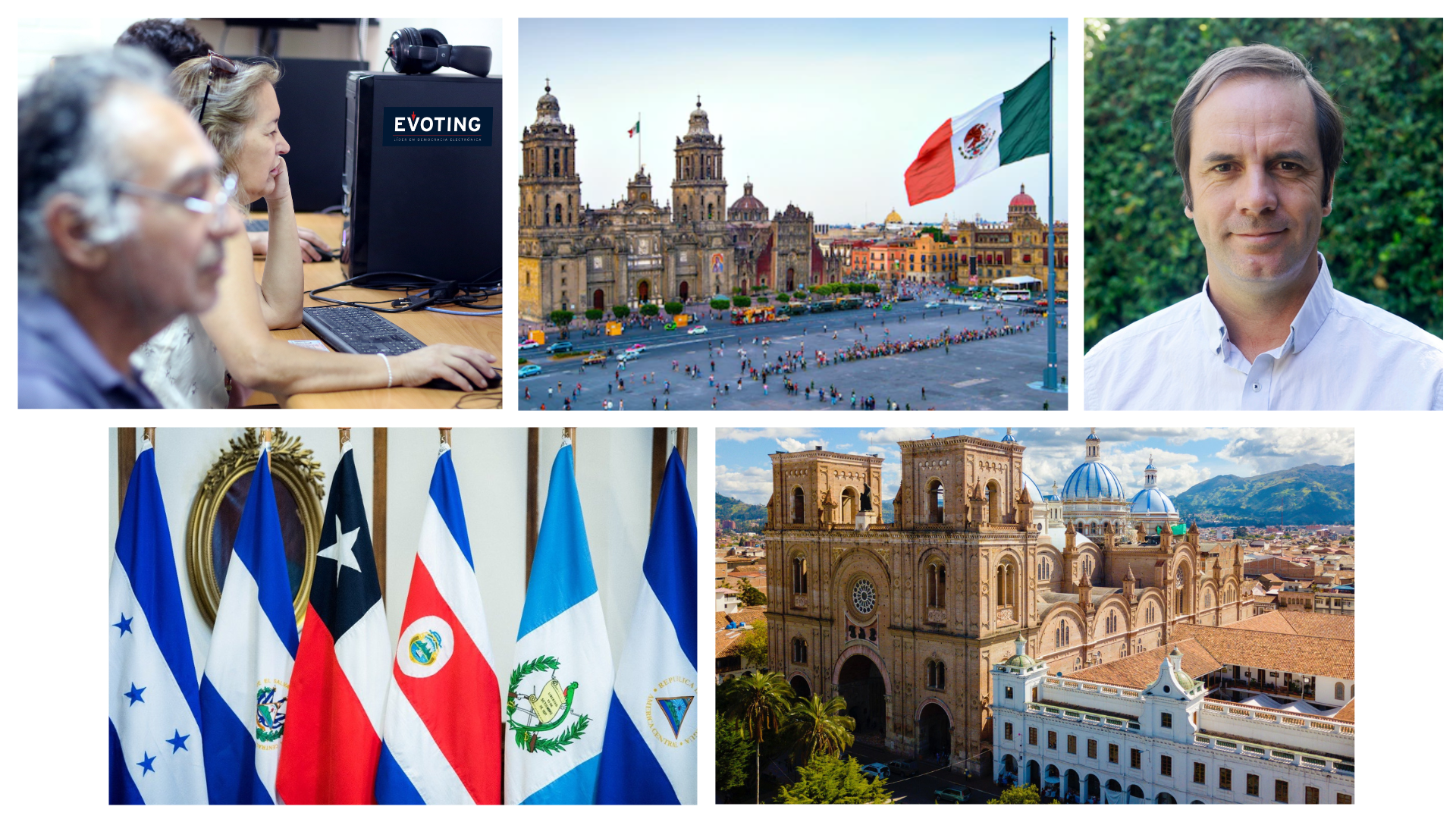 The company resumes its on-site activity in the region with several visits.
"With the end of the pandemic restrictions and the return to face-to-face presence, most companies have resumed efforts that were interrupted or postponed. This is the case of EVoting, which is strongly resuming its international deployment.
According to Tomás Barros, general manager, the expansion plans are now reinforced by the impulse that the restrictions of the pandemic meant for electronic participation. "Undoubtedly, the impossibility of holding elections or assemblies in person increased the demand for our services and forced us to innovate and perfect our offer," he explains. Today he is optimistic: "we have a very solid experience, with 2,800 processes, 2.5 million votes received, and 1,000 clients in 8 Latin American countries
This enhanced value offer has been presented in different countries in the region for the past two months. In July it was Guatemala, in August Ecuador and Central America, and in the first week of September it will be Mexico.
"In Mexico there is still no awareness of the opportunities of electronic voting"
Barros will be in the Mexican capital the week of September 6-9, together with the company's Key Account Manager in that country, Enrique Rojas. "Mexico is a very important destination for us," he says. He emphasizes that the country is experiencing a greater interest in citizen participation in electoral events and that the state is modernizing the regulations and procedures of these processes. And it is in this electoral modernization where he sees an opportunity for electronic voting.
Campaign for growth in Central America
Gabriela Tijerino, EVoting's Commercial Director for Costa Rica and Central America, foresees good expectations in the area. She sees a consolidation of electronic elections and assemblies services, in segments such as universities and private companies. She indicates that the area has the double challenge "to expand democracy, as well as to digitalize it".
New opportunities in Ecuador
Between August 8 and 11, an EVoting team led by its Operations Manager, Felipe Lorca, was in Cuenca, Ecuador, a country where the company has been present since 2021. During this visit, several meetings were held, and the electronic voting processes were supervised in person with the University of Cuenca, a school considered one of the most outstanding in Ecuador.
20 processes in one week
The use of electronic platforms for the realization of electronic participatory processes was consolidated in the post pandemic stage. EVoting's executives of electronic voting and assemblies agree on this. And, in their opinion, this explains the number of processes, especially in the last week of August, which amounted to 20, with a total of about 5,500 people. In total, the month had 47 processes, 31 clients and 19,300 votes received.
If you want to know more about our platforms or quote our services, write us at https://evoting.com/contacto/ and we will contact you.