NEW FEATURES IN THE EHOLDERS PLATFORM FOR THE NEW SEASON OF SHAREHOLDERS MEETINGS
Written by EVoting Communications

/
December 21st, 2022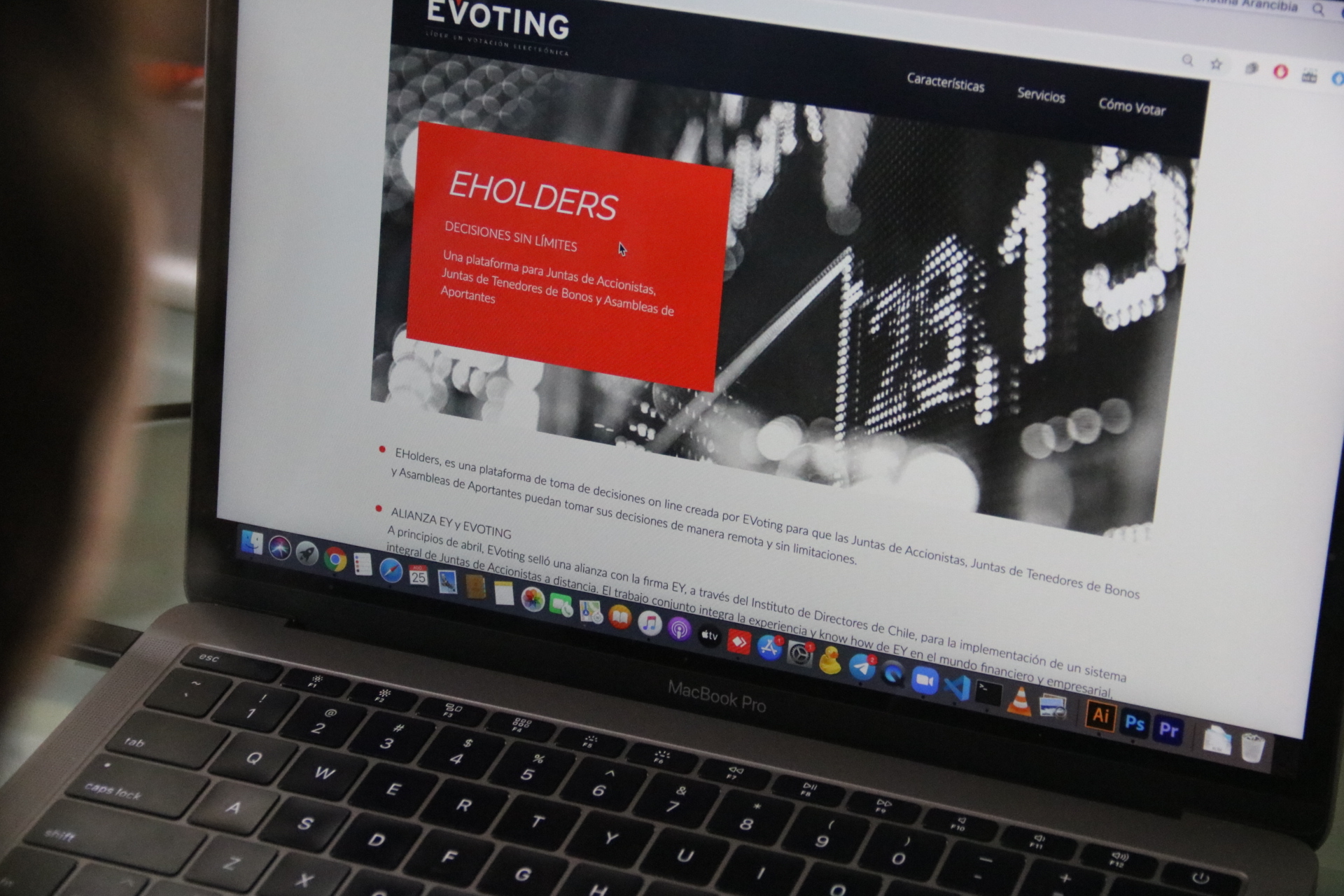 With three years of experience in conducting secure shareholder meetings, EVoting's EHolders platform is now ready for the 2023 season and includes improvements to the system in all its formats: remote, on-site and hybrid.
With more than 120 shareholder meetings held since 2020 and a portfolio of 70 clients, EVoting has become one of the companies with the longest track record in the field and the main supplier of IPSA companies, in addition to being regulated by the Financial Market Commission (CMF).
"We had meetings with the IT area and we saw that EVoting was by far the most experienced in what was being done, they had more technical knowledge and were also the most tested by IPSA companies", said Isidora Zaldívar, Colbún S.A.'s Investor Relations Leader, after the holding of its shareholders' meeting with EHolders.
For the coming year, the company continues to strengthen its platform to provide better service and ensure more efficient processes in all its formats: remote, face-to-face and hybrid.
Enhancements for 2023
With the vast experience of previous years and in search of perfecting processes, EVoting made a series of improvements to the EHolders platform.
-Zoom was integrated to the voting platform, so that meeting attendees can have only one window open and not be switching between two views, as was previously done.
-New tracking functionalities for organizers: now, during a vote, they can follow the status of each shareholder's vote through general filters and a search engine for specific cases.
-Strengthening of the internal team to offer a more complete range of support services, both for hybrid and fully face-to-face meetings.
-Added audiovisual assistance in varying degrees, depending on the client's needs and the requirements of the meeting.
"The new improvements for shareholders' meetings seek more comfortable, secure and efficient processes for our clients," explained Nicole Molina, EVoting's Assistant Manager of Meetings and Assemblies.
Matías Silva, the company's Head of Development, highlighted the integrated Zoom as a tool that "will facilitate processes for shareholders and allow for smoother meetings".
This is in addition to the features that were already present in previous years, such as the personalized link, strong authentication only with the participant's ID number, and the possibility of voting by proxy.
In addition, EVoting's characteristic accompaniment continues in all its processes, with continuous technical support, an operator who manages the meeting at all times and a moderator who accompanies the president permanently.