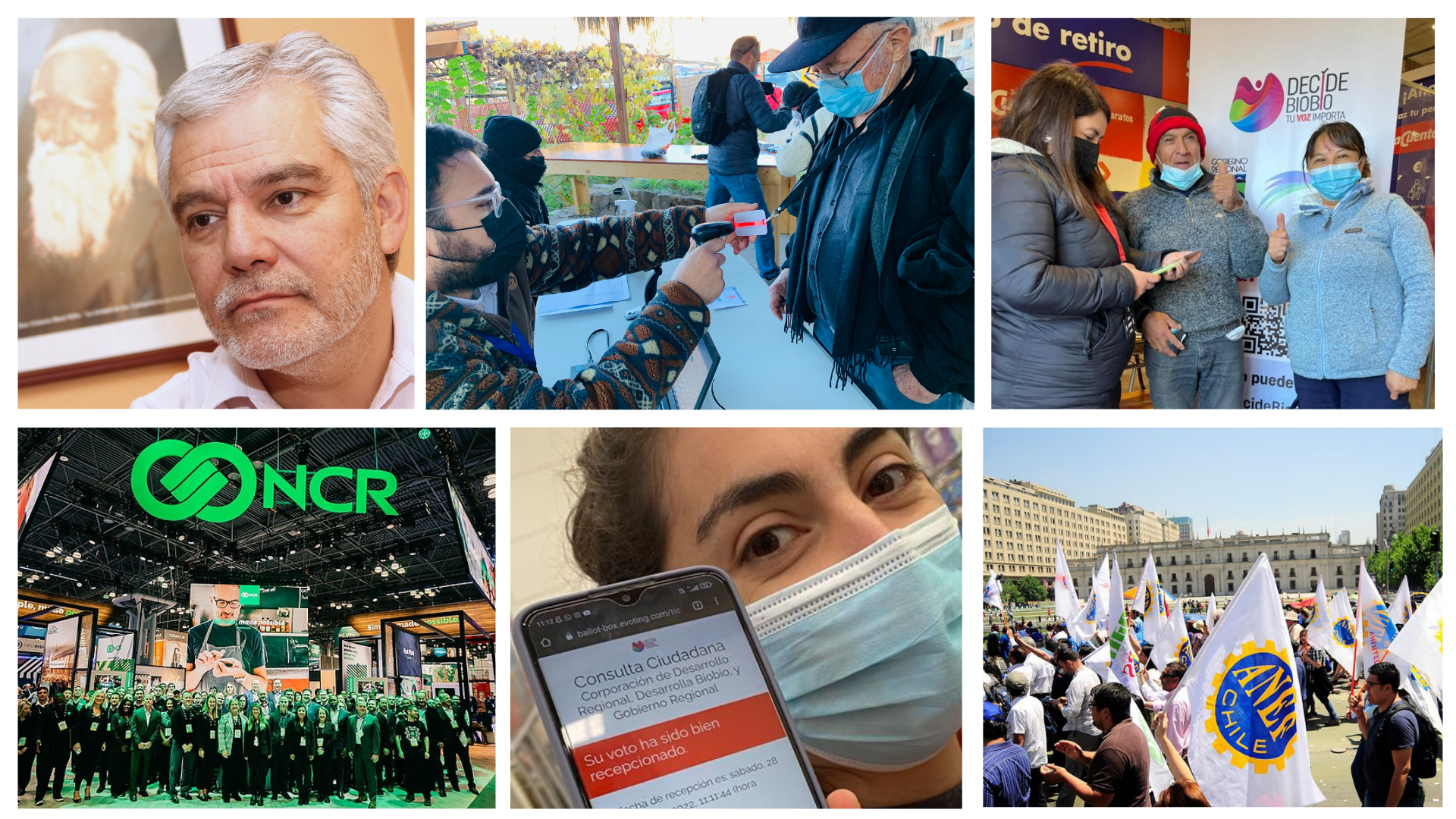 More than 60 thousand people voted on our platforms, in processes where important choices were made, and where several innovations proved that technology can adapt to the people and facilitate their democratic decisions.
Results of the Biobío Consultation were presented to the Minister of Transportation
55 thousand inhabitants of the Province of Concepción and the city of Los Angeles participated in the unprecedented citizen process #BioBioDecides, which consulted on the road crisis and public transportation in the area. "We want to lead this shout from the people of the Biobío Region. For the Regional Government this is a mandate, it binds us," said the Regional Governor, Rodrigo Díaz about the results. The Governor presented the results to the Minister of Transport, Juan Carlos Muñoz, together with other local and parliamentary authorities of the Biobío.
Technology at the service of unionism
In a conversation with EVoting, the re-elected National President of the National Association of Public Employees, ANEF, José Pérez Debelli, referred to the recent internal elections of the organization, pointing out that electronic voting "helps everyone to participate and to have that right incorporated, which is what we defend: to be elected and to choose". He added that, in his opinion, "the technology that today crosses us as a society has to be put at the service of trade unionism.
When technology adapts to people, and not vice versa
For the third time, the General Meeting of Members of the Capel Cooperative was held electronically. On this occasion, it inaugurated the use of the "electronic passport", an innovation developed by EVoting especially for this event, to be admitted to the Meeting and be able to vote. "We have simplified the voting process, while maintaining security and transparency standards," explained Rodolfo Álvarez, Deputy Manager of Voting, with a solution that demonstrates that people do not necessarily have to adapt to technology, but that technology can adapt to them." The Capel meeting had a participation rate of over 97%.
Security of a clear, transparent and confidential process
Gabriela Carrasco is Occupational Health and Safety Adviser at NCR Chile and was in charge of coordinating the institutional elections, which were held electronically for the first time. Regarding the experience of voting with the EVoting platform, she highlighted the increase in participation: "there was a difference, in favor, that is, there were much more votes than when it was done in person, because for the first time the field technicians at national level, in different regions, participated for the first time; therefore, there was more participation". He added that they were always sure that it would be "a clear, transparent and confidential process.
If you want to know more about our platforms or quote our services, leave us your contact information here and we will contact you.